2020: Year In Pictures
2020 was supposed to represent good vision, but the year turned into mishaps and tragedies. It was a year that defined our lives and how the experience changed all of us.
It started with a volcanic eruption in January. The Philippines' second most active volcano spewed ash and lava that displaced thousands of people and left many establishments within its vicinity closed for weeks.
Volunteers rescue animals that have been left behind as Taal volcano continues to release ash and smoke in Batangas province south of Manila, Philippines.
People ride a small boat as Taal volcano spews ash into the sky seen in Batangas province south of Manila, Philippines. January 14, 2020.
A man looks for recyclable materials on a damaged house as Taal volcano continues to release ash and smoke into the sky in Laurel, Batangas province.
Fishermen harvest their catch along the lakeshore as Taal volcano continues to show signs of an imminent hazardous explosion in Talisay, Batangas.
The Taal volcano island was once a verdant and popular tourist spot in Batangas province. It became a deserted island and was named a no man's land.
Various groups call for press freedom and franchise renewal of ABS-CBN Corp, the country's largest TV network, during a protest.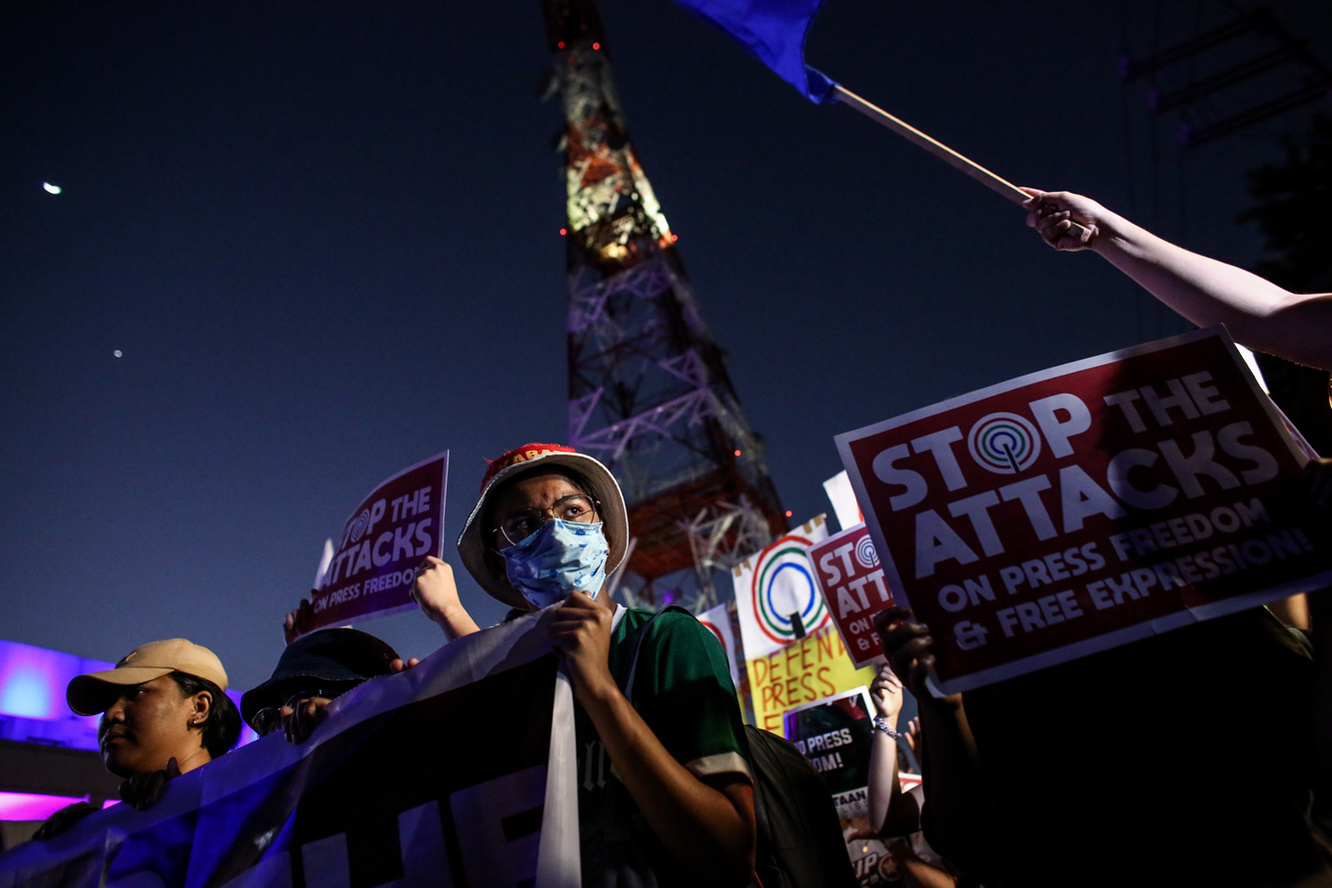 Emergency personnel spray disinfectant to sanitize a street in San Juan City as preventive measure against the spread of COVID-19.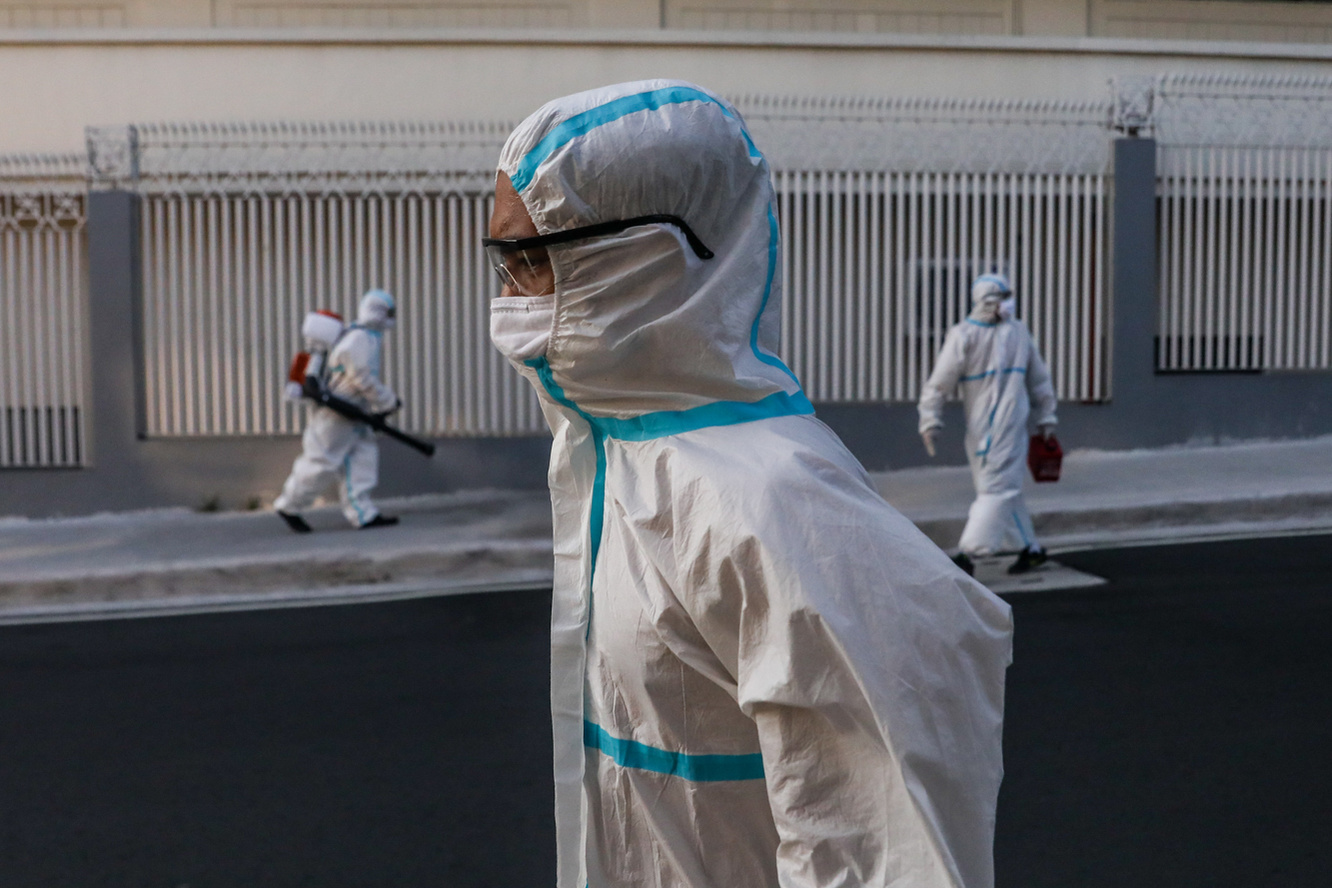 Motorists pass through a disinfecting gate along Roxas Boulevard during the coronavirus lockdown in Manila, Philippines. March 24, 2020.
Workers wearing protective equipment bring a casket inside the Baesa Crematorium as another batch of cadavers is being prepared for cremation in Quezon City.
Airport staff wearing face shields watch Filipino Contract Workers (OFW) as they arrive from Hong Kong at the Ninoy Aquino International Airport (NAIA).
Then came the spread of COVID-19 that was first detected in China's Wuhan province. It was a race against time as governments around the world struggled to contain it. The world almost stood still as different countries enforced strict lockdowns, but despite that the virus still spread, an unprecedented global catastrophe nobody had seen coming.

The Philippines was the first country outside of China to have reported a death from the new coronavirus disease. In mid-March the Philippine government imposed measures to contain the virus. Several months later, cases and deaths due to the disease began rising.

Up to now, the government is still struggling to curb the spread of the virus that had crippled the economy and left millions of people jobless.
A policeman wearing a protective mask patrols a public market to check that enough social distance is maintained to slow the spread of the coronavirus.
A worker cleans cubicles installed inside a sports arena in Pasig City, Metro Manila, Philippines. April 18, 2020.
A teacher sets up a tablet attached to a robot wearing a toga during a cyber graduation inside a public school.
Rappler CEO and Executive Editor, Maria Ressa stands inside a disinfection booth as she arrives for a court hearing in Manila.
Cory Vidanes (R), Executive and Chief Operating Officer for Broadcast of ABS-CBN Corporation, comforts TV reporter Chiara Zambrano (L) in Quezon City.
Filipinos wearing protective masks undergo coronavirus rapid tests before returning to their provinces through a government's transportation assistance program.
Stranded passengers including overseas Filipino workers take shelter under an elevated highway outside the Ninoy Aquino International Airport.
A health worker conducts a COVID-19 swab test inside a gymnasium in Navotas city, Manila, Philippines.
Filipino activists protest against the proposed anti-terror bill in Manila, Philippines.
Activists clash with police during a rally in celebration of Pride Month near the Malacanang Palace in Manila.
In May, a government regulatory agency declared a cease and desist order against ABS-CBN that forced most of the TV network's operations off air, depriving millions of Filipinos of critical information amid the pandemic.

Fast forward to early July, the inevitable happened as Philippine Congress voted to reject a new franchise for ABS-CBN. This was followed by protests and motorcades in front of the network's headquarters and the Philippine Congress.

In September, the government received flak for pursuing the controversial ₱389M renovation project to revive the polluted Manila Bay amid the situation against COVID-19. People flocked to the new tourist attraction dubbed as 'Manila Bay Sands' where a portion of the baywalk area was covered with artificial white sand made of crushed dolomite rocks.

A government official described the project as a panacea to the public's mental health amid these trying times. But critics would have none of it as the public faced more pressing issues.
People walk past white sand along a portion of the Manila Bay walk as part of the government's rehabilitation program of the coastal bay.
Displaced tribal children who are stuck in Manila due to COVID-19 lockdown restrictions attend a flag-raising ceremony on the first day of classes in UP.
Teachers use computers and respond to calls as they attend online classes at the Tele-aral Center inside a public school in Taguig City, Metro Manila.
Detained human rights worker, Reina Mae Nasino, weeps as she attends the burial of her three-month-old baby, River, who died of pneumonia.
A man wearing a face shield sits inside a bus as quarantine protocols ease in Metro Manila, Philippines.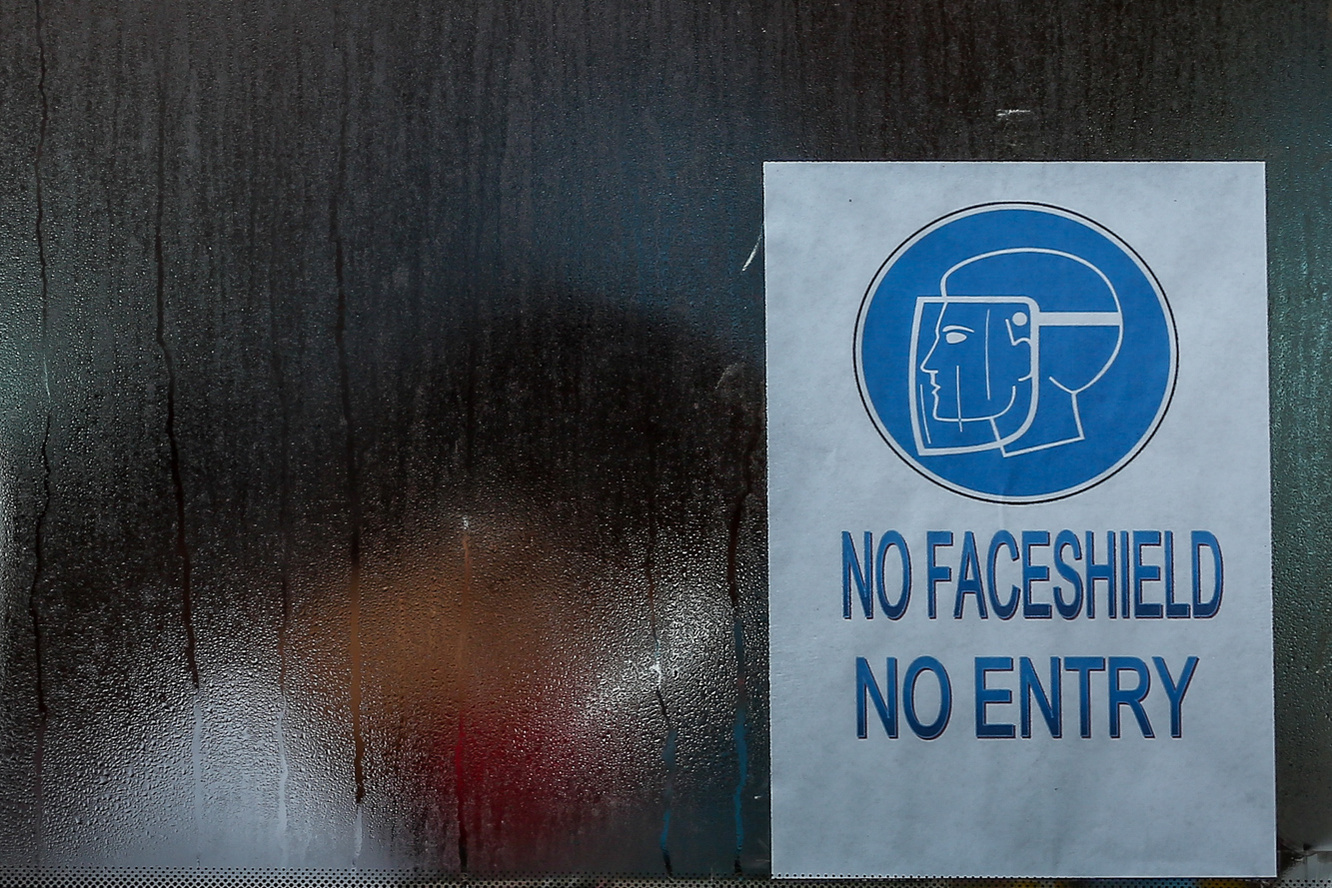 Rescuers carry children out from a flooded street due to heavy rains brought by Typhoon Vamco in Providence village in Marikina City, in Manila, Philippines.
Residents walk on a street covered with thick mud and debris as they retrieve their belongings after a flood following the onslaught of Typhoon Ulysses in Rizal
People walk past Christmas lanters displayed along a street at Dapitan Arcade in Manila, Philippines on Friday. December 4, 2020.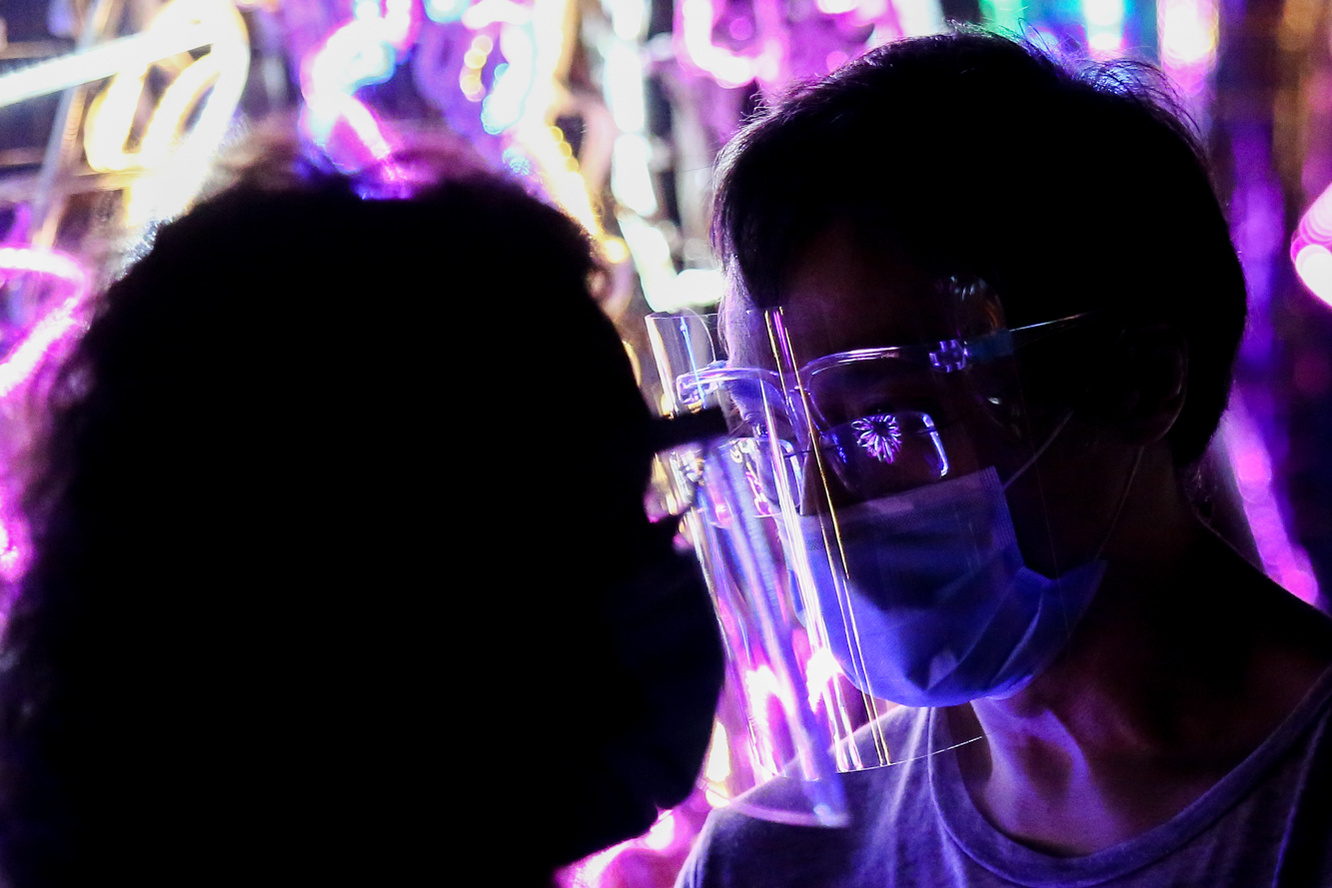 Workers wearing protective equipment spray disinfectant solution on a stage inside a theater at the Philippine International Convention Center in Pasay City.
Family members of slain Sonia Gregorio and her son Frank Anthony mourn over their caskets during the last day of their funeral in Paniqui, Tarlac province.
In October, the newly created distance learning system kicked off even as both students and parents were caught unprepared by the new approach.
Also in October, the burial of three-month-old baby River went viral after authorities first prevented his detained mother from visiting the child sick of pneumonia and allowing her later to attend the wake and burial with strict security protocols on display.

In November, the world's strongest typhoon this year, Rolly, started a series of typhoon that lashed out the country, ending with Ulysses in the north.

As the year shuddered to a close, a family in Tarlac province became a victim of a policeman when a mother and her son were killed point-blank, the full horror recorded and played back on social media.

Despite the unfortunate events and mishaps that took place, there are still things to be grateful for and look forward to in the coming year if only because we survived.

Things remain uncertain as we welcome the coming year but we cling to the hope that as circumstances change so will the people experiencing this change.